Situated in the middle of Downtown East Dearborn, City Hall Artspace Lofts resembles a quaint college campus. Three former municipal buildings combine residences, gallery and studio space, and future retail and office space.

The lofts are one of more than 40 unique properties across the nation created by nonprofit real estate developer Artspace, and the first in Michigan. The organization renovates properties to accommodate artists and their families in live/work spaces at affordable prices. Residential rents at the City Hall Lofts range from about $660-975 a month and includes heating, cooling, water, sewer and trash. Residents pay for cooking and electricity.

City Hall Artspace Lofts' grand opening was last September, and construction is still underway in some parts of the structure. There are 53 apartments in the complex. Only four are currently vacant; however, there are applicants for those units in final stages of the application process.

Artspace is in the process of building out commercial space, a place for the artist-in-residence apartments, creative businesses, non-live studio space, and even the East Downtown Dearborn Development Authority, which will move from its current office on Michigan Avenue to a City Hall office in July.

"The rest of the commercial space is being white boarded," says EDDDA Executive Director Mike Bewick. "So as tenants sign leases, their areas can be built to suit."

The project has plans for community involvement, both inside and outside of the facility.

"They have had several meetings with the residents and will be scheduling more this year," he says. "These meetings have helped the residents come together and get to know each other, to help form committees and get the building ready for weekend markets, gallery showings and for residents to start interacting with the community."

Funding for Artspace comes from corporate, private, and individual donations. Two of the biggest donors nationwide have been the Ford Foundation and the Kresge Foundation.

Art as community

One of the few current Artspace residents from out of state is Megan Czerwinski, a mixed-media artist from Erie, Pennsylvania who ended up living in Detroit in 2012 after an "11 countries in 11 months" trip around the world with World Race Missions, a Christian mission organization.

Czerwinski stayed in Detroit for a few years before leaving for California for a while, and then back closer to family in Pennsylvania, before returning to Detroit last year. "Wanderlust," she says with a laugh.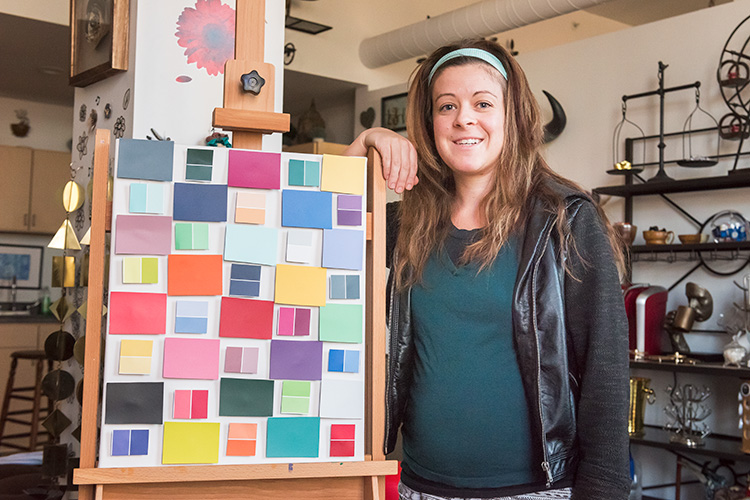 Megan Czerwinski. Photo by Doug Coombe.

She then saw signs that Artspace was coming to Michigan. "I knew I was supposed to return to work on my creativity. I love Detroit," she says.

That creativity includes photography, watercolors, acrylic, collage, and more. Czerwinski's inspiration includes nature, faith in God, and bright things like hearts and flowers.

"It's been a great experience," she says. "I love living here. We get together, and we have jam sessions, and we're going to be doing more things (as a community)."

Czerwinski plans on going back to school soon to become an art teacher, but her ultimate goal is to start a nonprofit in Detroit.

"I want to help teenagers recover from addiction with art," she says.

A crush on a city

Growing up in Canada just outside of Windsor, artist Carl George was drawn to the City of Detroit.

"As a young artist, there was the Detroit Institute of Arts (DIA), and as a young gay man, I had to come to Detroit," he says. ""I always loved Detroit."

Starting when he was 15 years old, George would take the bus to the DIA, get a legendary Sanders hot fudge cream puff, shop at Hudson's, and take the elevators to the River Café, because that was where Diana Ross worked.

He ended up moving to New York in 1980 and stayed there until returning to the Detroit area to live in Artspace last year.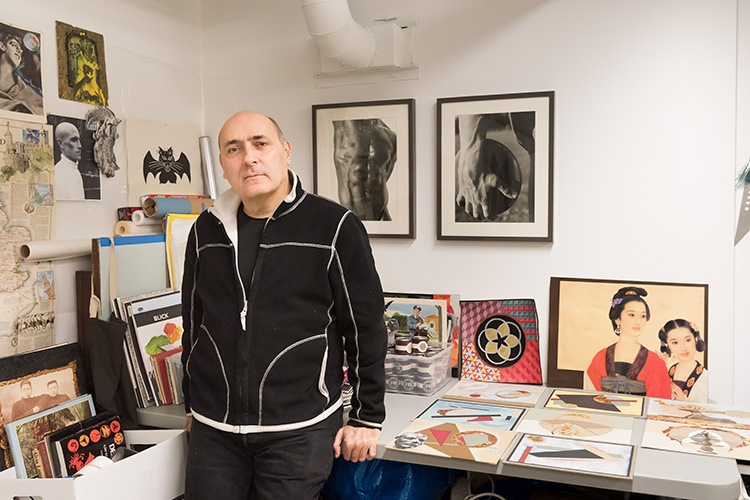 Carl George. Photo by Doug Coombe.

"I knew about Artspace, because of the East Harlem, New York space (El Barrio's PS 109)," he says "I was back and forth from New York to Detroit all the time. And I saw this sign go up. I thought: 'let me keep an eye on this,' and I moved in last May."

George is primarily a painter and collagist, but has done films, and says he will probably do more in the future. He also plans to remain involved in activism.

"If you are a woman, progressive, lean left, far-left, I will support you, campaign, raise money for you, and vote for you," he says.

He is also committed to planning future events for the lofts and his fellow neighbors. In April, the Michigan Silversmiths Guild will be visiting. In June, fine arts graduate students from Wayne State University will have a showing on metallurgy. In October, there will be a solo exhibit by Carol Kabrin, a teacher at the College for Creative Studies. And in November, there will be a photography exhibit.

Industrial art

Dan Gumina grew up in "blue collar Garden City," a small working-class suburb about twenty minutes outside of Detroit.

As a child in a household of 13 children born to schoolteacher parents, Gumina was inspired by Disney's Fantasia and the paintings of Salvador Dali and would take his supplies downstairs very late in the evening to make time for his painting.

Gumina says his family never traveled like other kids his age did, but everywhere they went, his mother would point something out that he should take note of.

"She did see my eye," Gumina recalls. "There wasn't time to encourage me with that many kids."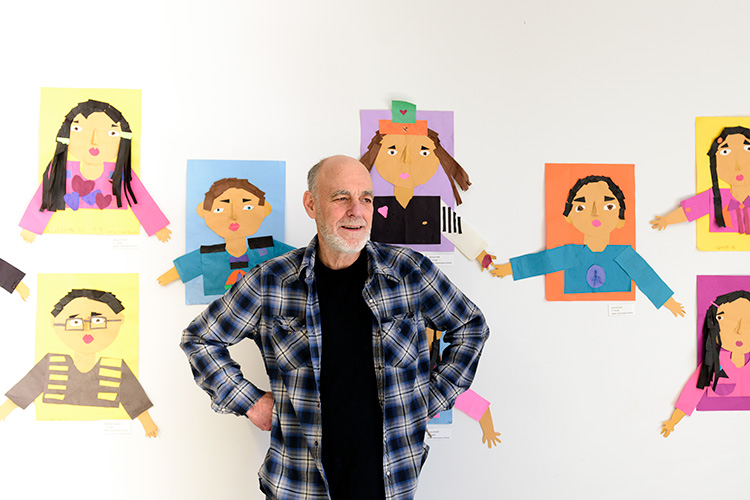 Dan Gumina. Photo by Doug Coombe.

Gumina didn't go to art school, but he landed at a job that inspired him as well--or better than-- school could. Working as an "industrial auction field-rep set-up guy," Gumina would get flown to industrial sites across the country, where he would audit an industrial company or property for auction.

"There is something you see in every plant you go to, something that makes you think 'Ah if I could take pictures of this, and photograph that, and put it in a collage, or whatever.' You see the time, blood, sweat, and tears, and in some of the older ones, the walls talk to you."

Oftentimes, he would be in a city like San Francisco and see a dumpster full of screws, or bins full of wood trimmings from a pattern shop, and find himself wishing he could get a hold of local artists to come and take the supplies. He began collecting artifacts.

"Wherever I knew people," says Gumina, "I would let them know if there was some type of equipment or machinery available, and they would show up. Everything that I saved—copper, brass, different metals that I really wanted to make art out of—some I still have, and I am waiting for the right time."

Gumina says that right time could be now, because of Artspace. It came along at a point in his life where he was semi-retired and looking after his elderly parents. He had already been living blocks from the City Hall campus on Orchard Street, so this seemed like a great opportunity.

"These are the things I can finally find some time for," he says.

Gumina thinks Artspace could be a great spotlight on the City of Dearborn and the Metro Detroit area as a whole.

"There's potential everywhere. It's a work in progress."