Overview
To get involved, contact Lucas Koski, Director, Property Development.
To support the Artspace Colorado Springs capital campaign, give by credit card or contact Dana Mattice, Director, National Advancement.
---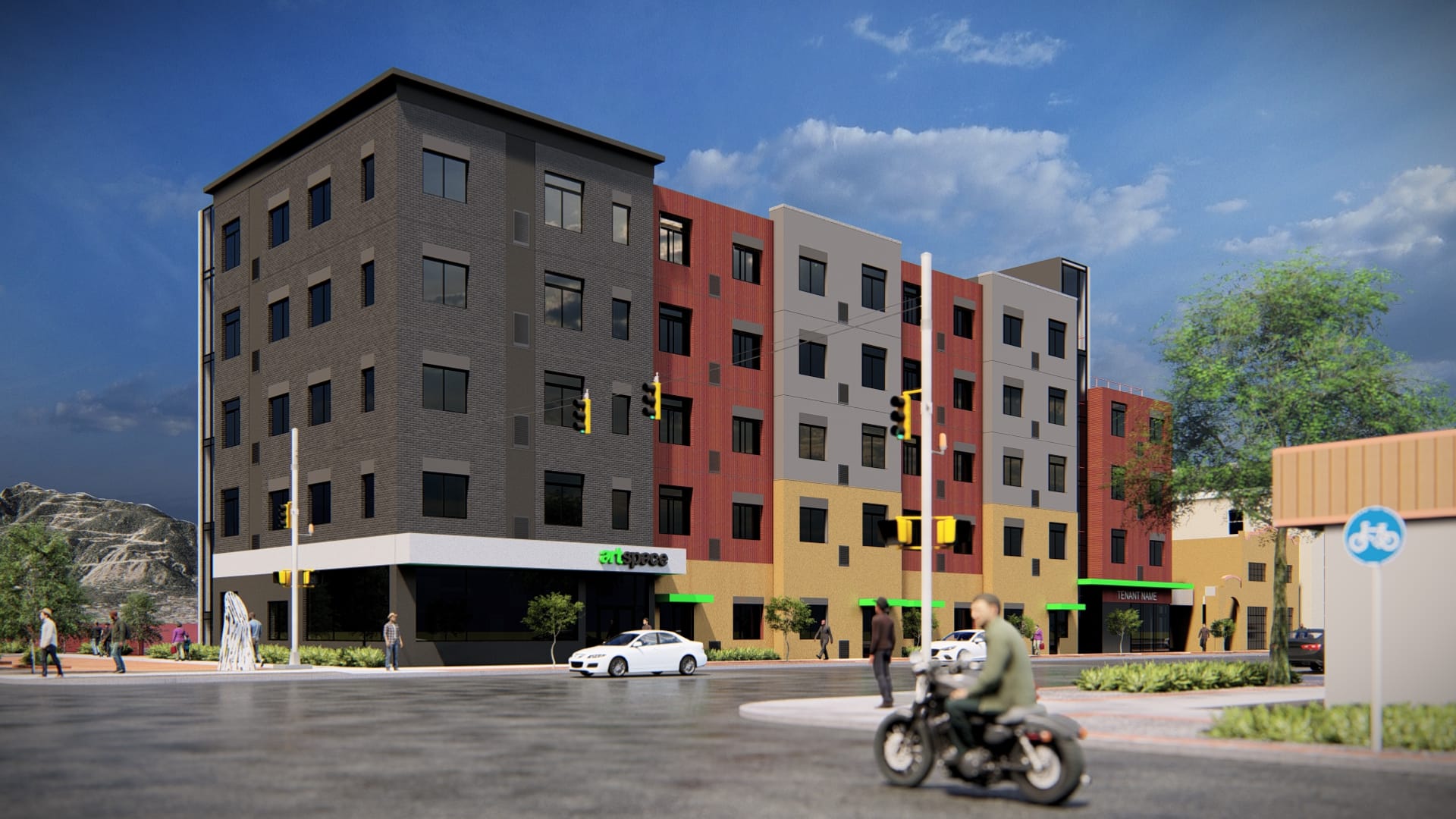 To designate Artspace Colorado Springs as a destination for the arts, public art components will include murals situated on the building's exterior vertical spaces and sculptural components along the right-of-way adjacent to Wahsatch. The exterior design will reflect the level of artistic activity occurring within the 51 units of multifamily affordable housing and 7,500 square feet of commercial space, and a rooftop deck will provide stunning views of the southern Front Range of the Rocky Mountains. All the units are one- or two-bedrooms, addressing studies that showcased a need to attract graduate students and young artists, thereby retaining the next generation of creative workers. Through a concentration of residential units and commercial space that prioritizes the creative workforce, Artspace Colorado Springs will plant a flag for the creative community—and the District at large—that this is safe and forever home for the creative sector.
Artspace Colorado Springs grew out of a grassroots effort led by the Colorado Springs Downtown Development Authority (DDA). A mixed-use, five-story building located in the Creative District downtown, it will seamlessly link new construction with a historic element to create one cohesive, 48,000 square-foot building.
The majority will be new construction built to the standards of 2020 Enterprise Green Communities, with photo-voltaic capacity and EV-ready parking spaces. It will also preserve an important piece of local history, retaining the Spanish-style 1928 portion of the former headquarters for the Gay & Lesbian Fund for Colorado (2002–11), which was then gifted to Rocky Mountain PBS and named in honor of prominent LGBTQ businessman and philanthropist Tim Gill. For nearly two decades the building hosted thousands of community members for workshops, meetings, and receptions, and became a beloved space where all felt welcomed and safe—values and a legacy that Artspace will continue.