The Cowles Center for Dance & the Performing Arts was created by Artspace a decade ago and is the premiere venue for dance in downtown Minneapolis, boasting an impressive education repertoire including the delivery of a robust dance learning program for schools. The Cowles Center works with a roster of 13 Teaching Artists: Professional dancers, choreographers, and experienced educators who bring dance right into classrooms. Since 2004, more than 66,000 K-12 students in Minnesota have experienced dance education via the Cowles—and nearly 2,000 students were anticipated to participate in dance learning this spring. The global pandemic, however, interrupted all of The Cowles Center's spring programs, including three in-school dance residences that were mid-stream.
Teaching Artist Anat Shinar at Lake Harriet Lower Elementary.
Collectively, The Cowles Center's Dance Without Barriers, First Moves and Creations residency programs had delivered just 314 of 620 planned sessions for students, with the other half of the residencies in a state of suspension. Teaching Artists were left wondering if their contracts would be honored and how they would pay the bills; teachers and students were displaced from their classroom environments; and approximately 2,000 K-12 students had interrupted or missed dance learning and movement opportunities.
The Cowles Center was just one of many arts organizations left scrambling in the wake of the pandemic, required to make immediate decisions during unprecedented times. Americans for the Arts launched a national survey to gather data on the impact of COVID-19 on the arts and cultural sector, with results to date from nearly 6,000 respondents showing an estimated median loss of $30,364 per organization. More than 90% of respondents cancelled events, with an average audience loss per organization of 84,311 people. The impact on artists and contractors is also projected to be profound.
As it was clear that The Cowles Center's in-school residency model could no longer be delivered within shuttered schools, leadership at the Cowles decided to explore alternatives. "Since we do so much learning already through videoconferencing, it felt natural to turn to this resource during this time of isolation to keep us all connected," said Jessi Fett, Director of Programming & Education at the Cowles. "This is all happening so quickly that it is a challenge to keep up right now. We are trying to respond to the changing education landscape and provide resources to educators and parents to keep movement alive at home. If funders can be flexible with us, I think we can deliver really great curriculum in this time of need."
Teaching Artist Anat Shinar at Lake Harriet Lower Elementary.
The Minnesota State Arts Board and Aroha Philanthropies are both exemplars of ways that philanthropy partners with nonprofit organizations to serve their communities, even in times of crisis. The Minnesota State Arts Board (MSAB) had provided Arts Learning funding for the Cowles' Creations program, an in-school residency for high school students that was intended to culminate with students presenting their new choreography on the main stage at the Cowles in downtown Minneapolis. Aroha Philanthropies is a long-time supporter of First Moves, which partners with Minneapolis Public Schools' Cultural Experiences Partnerships program to offer a four-day dance residency during Physical Education class time for Minneapolis first graders at each district elementary school.
The Cowles Center staff were deeply concerned as to how funders might react to the interruption of planned services, and how much flexibility for program revisions might be available to ensure Teaching Artists could be paid even as the programs came to a halt with the rest of the world.
Thankfully, program officers at both philanthropic organizations immediately reached out to staff at the Cowles with messages that illustrated a deep understanding of the new challenges that nonprofits face. The program officer at MSAB reassured grantees that they could extend timelines or make major changes to projects; and proactively provided information on how to amend contracts. They also encouraged paying artists even if activities required cancellation (while encouraging organizations to explore other ways artists could contribute). Similarly, staff at Aroha Philanthropies communicated their understanding that program changes would be necessary, and their recognition that schedules and deadlines might change. They explicitly stated that they wanted organizations to put the health and welfare of communities and employees first, and they, too, prioritized the payment of artists. Ellen Michelson, Aroha's founder and president, stated clearly, "We do not want to add to the stress our grantees are feeling in this crisis." Follow-up conversations with the organizations' program officers further revealed a profound sensitivity to the rapidly changing circumstances that The Cowles Center faced; as well as a commitment to the community that The Cowles Center serves.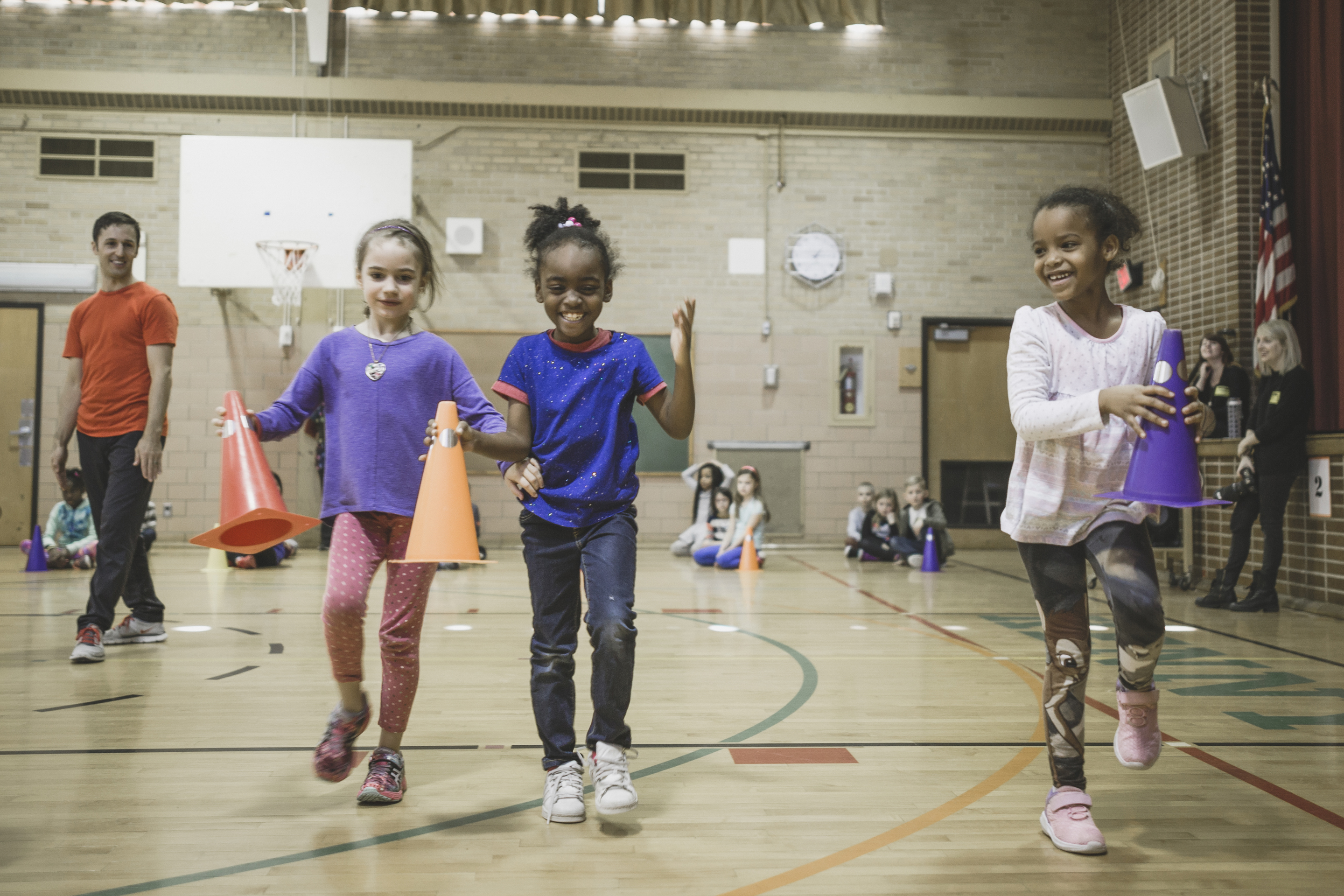 Teaching Artist Blake Nellis at Kenny Elementary.
The flexibility to grant awards has enabled The Cowles Center to radically re-envision how to deliver dance education within this new period of social distancing. The Cowles is pleased to report that all 13 of The Cowles Center's Teaching Artists have been offered stipends to create online content, which will be rolled out in the coming weeks. It still remains unclear how long social distancing recommendations will last, but leadership at the Cowles speculate that now, more than ever, dance learning and movement will provide relief to the many Minnesotans (and a potentially nationwide audience) who are suddenly homebound. The Cowles Center staff also plans to work with additional funders to continue to reach intended audiences in new and innovative ways.
"It has been such a relief to hear funders say to pay out our Teaching Artists commitments," said Fett. "It has allowed us the breathing room necessary to take a step back and dive into online learning with new excitement!"
All photos by Joe & Jen Photography, 2019.