THEN.
"My mother always tells me, as soon as I knew pen went with paper, I was drawing and writing stories," Therosia Reynolds recalled when reflecting on how her artistic practice began. She remembers being a young, precocious child, a "bright light bubbling over" with creative ideas at age 5. "Somewhere along the way, I lost confidence and was bullied. I turned inward. I got quiet around 10 years old." Therosia also stopped being creative, and did what many young girls do when they lose confidence. "I became quieter, letting go of who I really was. I developed early. I didn't want to shine or stand out. So I started artistically killing myself - that sounds bad, but it's the best way I can put it. I hid me from everybody."
It took a series of personal tragedies to shift Therosia's life, and return to her creative spirit. Her biological father left her family, and in eighth grade a chemical fire in her neighborhood caused her to develop a rare condition called pseudotumor cerebri: a condition that would cause her brain to sense a tumor on her spinal cord that wasn't there. Her body attempted to fight the phantom tumor by producing extra spinal fluid that, left untreated, would have eventually crushed her spine. Despite her medical setbacks, Therosia had always been athletic in school, running track and playing basketball. She was such an outstanding track star, that she was invited to interview 1988 Olympic Gold Medalist, Florence Griffith Joyner, for the school paper. Therosia was so active that by the end of ninth grade, she underwent major surgery, to replace a shunt that was embedded to "make space" near her spine, ultimately sidelining her involvement in sports. After surgery Therosia needed physical therapy, and had to be homeschooled. Luckily, there was a provision for her to be taught by local teachers at home in her Phoenix area school district. Her mandatory elective classes ended up being private art lessons. She was reintroduced to the arts by handful of local teachers who focused on writing, theatre, and drawing. While going through physical therapy, Therosia was also introduced to Rabbi Joseph Troxler who informed her spirituality, which led her to convert to Messianic Judaism. "All roads lead to this point, not only did my art teachers rehabilitate my motor skills through writing, and drawing – I met my spiritual father, who introduced me to messianic Judaism."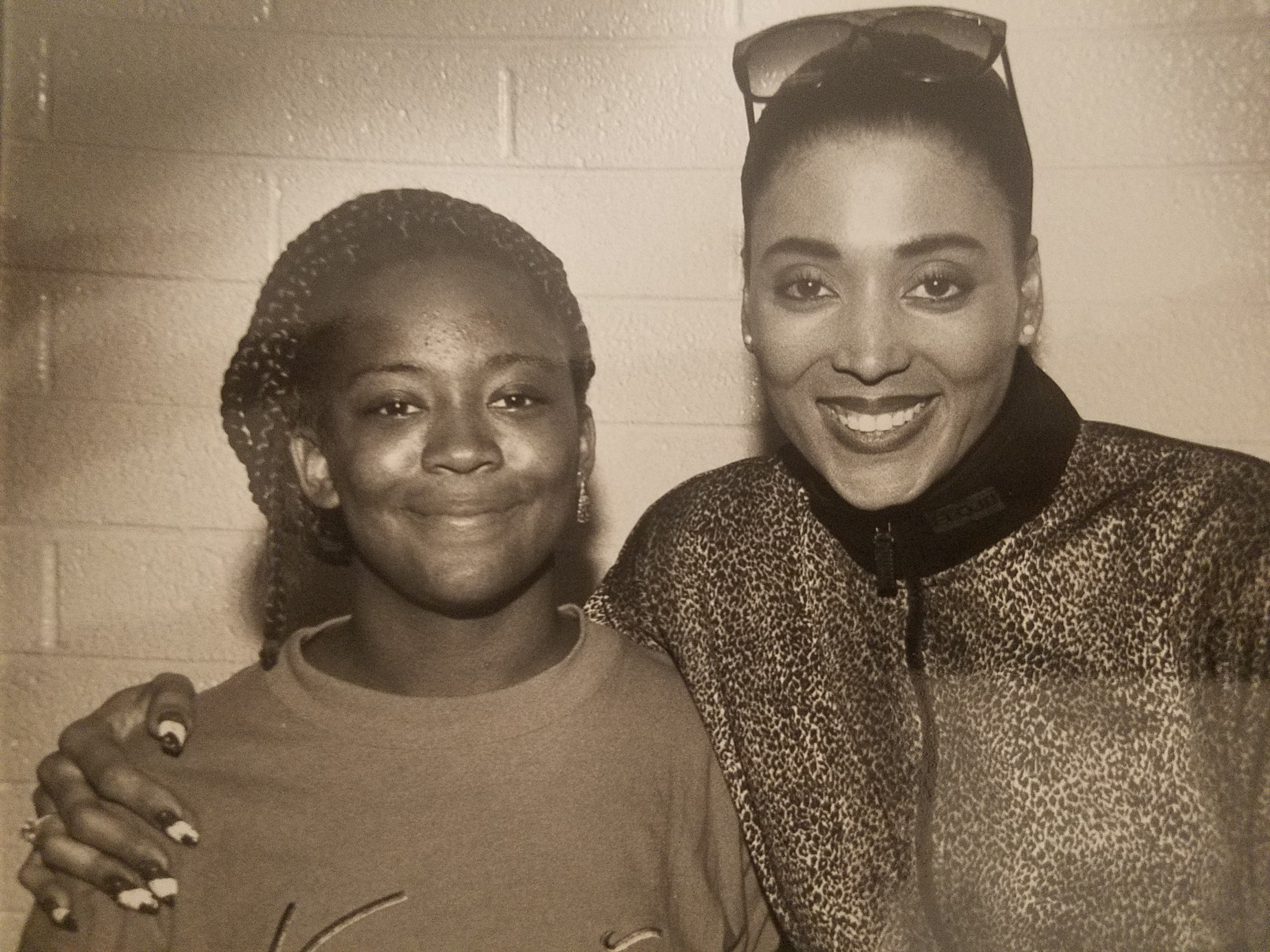 Above: Therosia Reynolds posing with 1988 Olympic Gold Medalist Florence Griffith Joyner after interviewing her in ninth grade.
NOW.
Within three months of moving into her new home at Mesa Artspace Lofts last summer, Therosia realized she lived among a community of unique and supportive people. While leading worship one sunny August morning at temple, she experienced an extreme pain. She noticed she had a lump in her stomach the size of a baby fist, but finished the service anyway. The following day, her upstairs neighbor noticed her discomfort and forced her to go to the ER. "Ms. Michelle, who is a spiritualist, literally said to me, honey you don't look so good. I'm sensing a bright red aura emanating from your stomach– you need to go to the hospital." When Therosia tried to downplay her symptoms, Ms. Michelle said, "If I don't hear from you in the next hour, you and I are going to fight. We're going to urgent care." Her neighbor's loving but forceful nudge helped Therosia to hand over her car keys, and accept the ride to urgent care. She was immediately admitted to the ER after seeing a doctor. Michelle didn't leave Therosia's side until Therosia's mother arrived.
"I was in the hospital for a week," Therosia shared with laughter in her voice. "When I got back, I came back to a whole community of people fussing at me." Much to Therosia's surprise, Michelle returned to the Mesa Artspace Lofts sounding the alarm, encouraging neighbors to take care of Therosia. What followed was a collective of neighbors working together to assist with her everyday needs, until she was fully recovered. "Isarae, a poet in the building, dedicated herself to making sure I didn't lift anything; Marne, a painter to the left of me, insisted she do my grocery shopping when I couldn't; Heather, who lives on the second floor, washed and conditioned my hair when I couldn't; Aiden took the garbage out for me; Christina would stop by to keep me company; and Ms. Sharon was the first person to take me to the grocery store, when I was first able." Therosia acknowledges so many more came to her aid, offering to help, even at times when they might be experiencing some sort of deficit in their own pantries. She considers each of them as more than just neighbors, "I have found a fraternal order of artists who didn't require me to be less of myself, but instead were committed to caring for me to my fullest."
Above: Therosia Reynolds and her Mesa Artspace Lofts neighbor, Michelle Ann Vincent.
Therosia Reynolds is a multi-genre artist and Phoenix, Arizona native whose deep-held spirituality informs her life and work. She describes herself as growing up "between worship and war stories." Reynolds is a singer, spoken word poet, and painter. Her poetry can be found in the Mending Souls Workbook; her other work can be found on her website: outhustleyourstruggle.com. Follow Therosia on Instagram at @iamtherosia or on Facebook @Therosia.
Excerpt from the Artspace QUARTERLY #5: The Mesa Issue