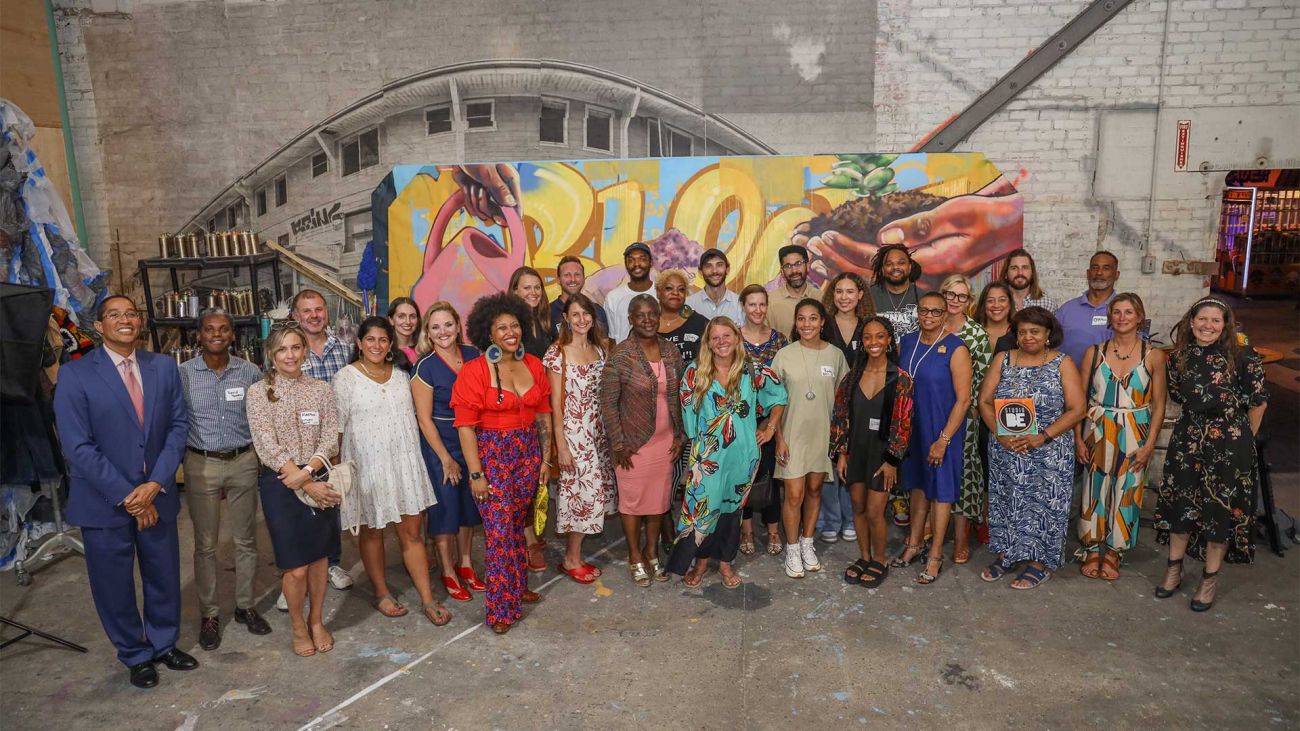 Artspace Immersion: New Orleans Mid-Program Tour. Photo by Josh Hailey Studio.
In early June, Artspace embarked on an in-person, mid-program visit to New Orleans, a meaningful occasion in the era of virtual gatherings. These visits have proven to be instrumental, not only for learning but also for fostering group camaraderie. This particular trip surpassed all expectations, thanks to the vision, local connections, and event planning prowess of Aneesha Marwah, Director of Artspace Consulting, and David Thaddeus Baker, our Local Program Liaison.
The highlight of this visit was a captivating "case study tour" of three exceptional spaces: Son of a Saint, Antenna, and StudioBE. Son of a Saint shared their journey of creating their beautiful new space, complete with candid stories of the challenges they faced along the way. Then, Antenna shed light on the unique perspective of a non-founding Executive Director, efficiently managing spaces while strategically contemplating future sustainability.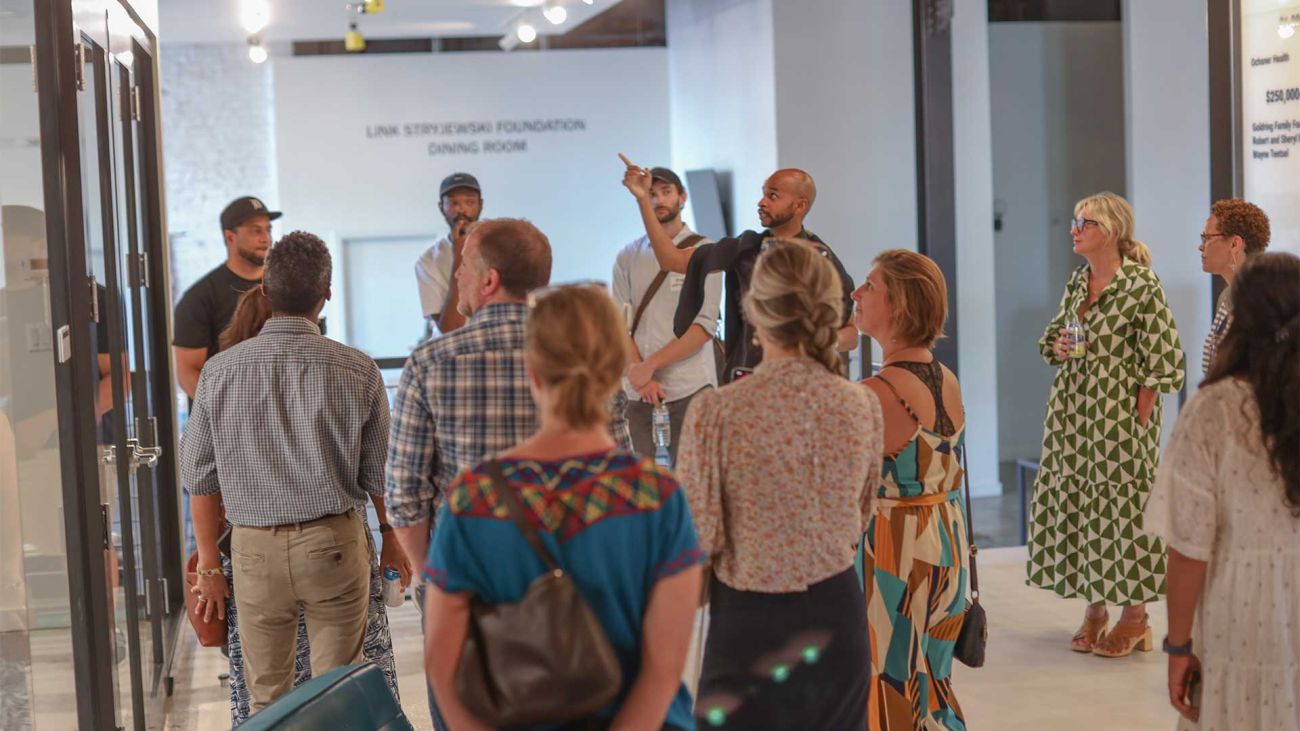 Case Study Tour at Son of a Saint. Photo by Josh Hailey Studio.
The third stop took us to the awe-inspiring StudioBE, a space belonging to one of our Immersion cohort members, Eternal Seeds. This particular visit featured an illustrious panel of dynamic professionals who engaged in a "speed dating" style breakout session, offering valuable insights into finance, tax, law, human resources, marketing, real estate, community development, and fundraising. A big thanks to our ten panelists for participating!
Alicia Labat, Manager, Commercial Property Tax at Ryan LLC.
Blake Eckert, Marketing Leader at Eagle Industries
Brenda Breaux, Executive Director, New Orleans Redevelopment Authority
Geoff Jacques, Head of Investments at Maritime Partners
Graham Williams, Attorney-at-Law at Sternberg, Naccari & White
Josie Delaune, Vice President & HR Director at Gulf Coast Bank & Trust
Katie Witry, Co-founder & Associate Broker at Witry Collective
Kenneth St. Charles, VP of Philanthropy at Greater New Orleans Foundation (GNOF)
Megan Manning, Artist, Entrepreneur & Consultant
Nicole Nelson, Project Manager at Alembic Community Development
Case Study Tour at Antenna. Photo by Josh Hailey Studio.
In addition to the tour, our team embarked on various other missions within the confines of a mere two and a half days. This whirlwind visit encompassed five site visits, attendance at Artisound Productions' student showcase, the filming of four interviews, two networking coffees, and, of course, a tour of the beautiful Bell Artspace Campus.
While it proved to be a whirlwind of activity, the trip was incredibly inspiring. Heartfelt gratitude extends to Anna Growcott, Crystal C. Mercer, Aneesha, David, and the diligent film crew from Increase Branding and Design for their unwavering dedication. The collaboration was nothing short of magical, fueled by a mix of creativity, determination, resourcefulness, stamina, curiosity, and joy.
Visits like these always underscored the intrinsic value of travel in cultivating trust and reinforcing bonds within the group. New Orleans served as the idyllic backdrop for this profound experience, solidifying the trust and camaraderie forged during this visit.
A special shout-out goes to Artisound Productions, an organization on our Artspace Immersion extension track, for their gracious invitation to their student showcase. Their program, Roots of Music, empowers students in the fields of audio engineering, songwriting, instrumentation, and navigating the music industry. Fun fact: their students provided the theme music for the current NOLA season of Queer Eye!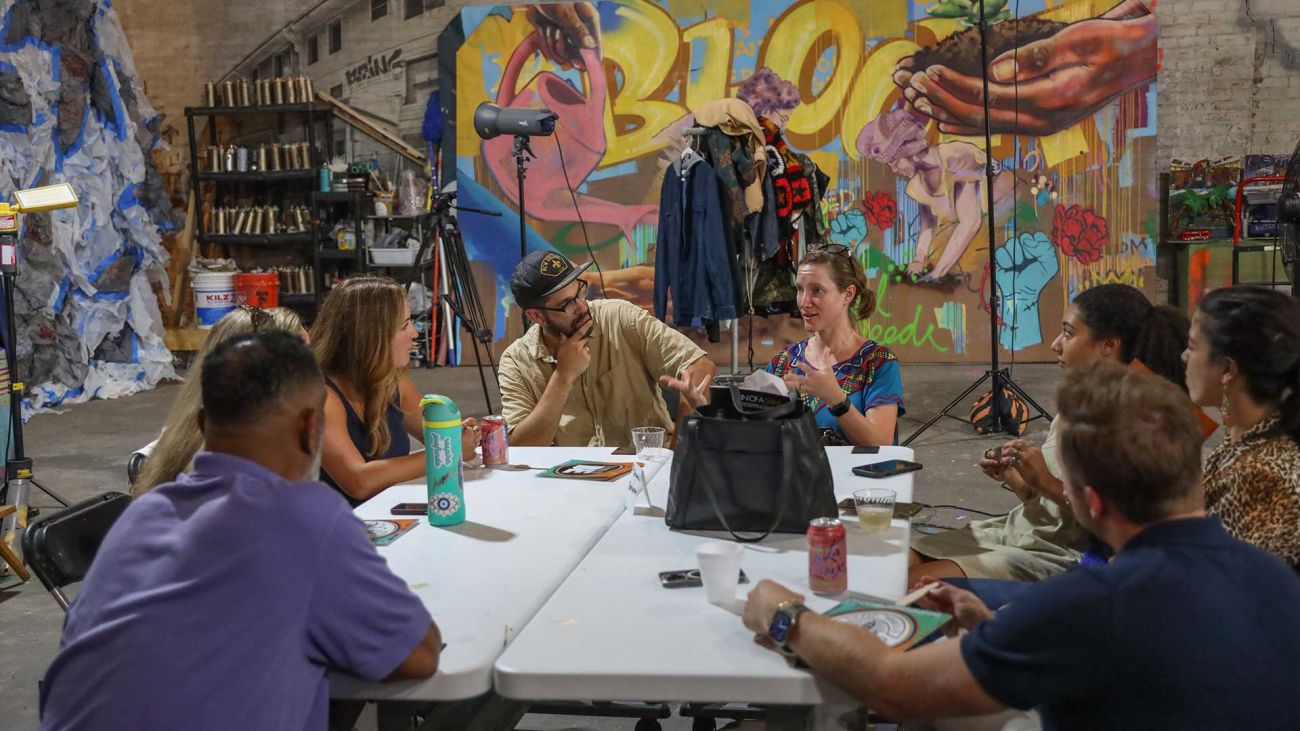 Speed Dating Breakout Session. Photo by Josh Hailey Studio.
We are proud of our remarkable Artspace Immersion program, particularly the cohort members, who continue to demonstrate extraordinary resilience and determination (which was definitely showcased during the speed dating panel that took place in a warehouse with no air conditioning amidst the relentless heat of 90-degree NOLA–a true testament to the unwavering spirit of the arts organizations they represent).
Cheers to more exciting adventures and the bonds forged during these unforgettable visits!