City Hall Artspace Lofts. Artspace Projects.
At the center of the city of Dearborn stands what Marie Craft calls "an antique." The building is City Hall Artspace Lofts, a mixed-use arts campus for creatives and their families, artists-in-residence, and arts-friendly businesses, which began accepting applicants in 2015. Craft moved into her first floor unit in December 2019, but her history with the building far surpasses any current resident or Artspace staff. Long before Artspace was invited to study the feasibility of a live/work project, Craft walked the halls of the first floor, passing by the city council's chambers to get to the city's Housing Department, where she worked in what was Dearborn's original City Hall. 
I was able to hop on a phone call with Marie and chat about her experience with Artspace and the affordable housing crisis at large. Before I could get a question out, she began reminiscing about the original City Hall. The current parking lot used to be where the Department of Parks and Recreation had its offices. She remembers walking into the City Treasurer's office and City Clerk's office. And she isn't the only person who still recognizes the building for what it once was. Marie recounted a handful of times she was in or around the campus and someone approached her asking if this was where they could get a copy of their birth certificate, or why she loved her job so much that she would choose to now live in her former office. There was even a time she found someone's mailed-in election ballot laying around, so she took the time to sort out the mishap before ballots were due the next day. 
Outside of her impromptu civic duties, she spends her time as most residents do: Immersed in her creative endeavors. Crochet is Marie's chosen craft, woven into the very fabric of her history. Her crochet samples, baby blankets, and hooded scarves are the artistic products of her mother's teachings. During our chat, Marie let me into her past and shared details of her parents' divorce, her and her sister's commitment to working as teenagers for additional financial support, and her mother's turn to illness in 2005. It was then that their financial hardships boiled over, and the family often fell through the cracks in the Medicare system and couldn't afford necessary medication. "I finally asked my mom what was happening," Marie recalls, "and she had no idea what to do. She really needed help." Despite Marie's best efforts to secure day-to-day resources and food stamps through the Dearborn Senior Center, the state assumed ownership of their house and set it up for foreclosure. Marie Craft was now homeless. 
Seeking Refuge
She made her way nine miles east to Detroit where she found respite at various homeless shelters, including Neighborhood Service Organization. "I was in their system and had to move wherever they placed me," she said. "They eventually placed me in a neighborhood that wasn't safe and had creatures crawling all over the place. I was moved two times and it was all the same." Then, she saw a call in the newspaper for eligible applicants to join the community at City Hall Artspace Lofts. "I contacted the Community Manager, had my interview, was on the waitlist for three months, and moved in with little to no belongings." She moved in right as the building was gearing up for a Christmas Party.
"I was introduced to so many people. Someone was getting rid of their bed, so they gifted it to me. Someone else heard I needed this thing, so they gave me their extras. I would say that is my favorite memory of being in this building so far. There are so many diverse and unique personalities, talents, and skill sets."
Marie Craft's story is personal, and yet, one that is continually experienced by countless people throughout the country. But where there is struggle there is hope, and Artspace continues to share that hope with an increasing number of creative communities as just one solution to the complex issue of affordable housing. Particularly, Artspace is working to bring similar opportunities across the state of Michigan.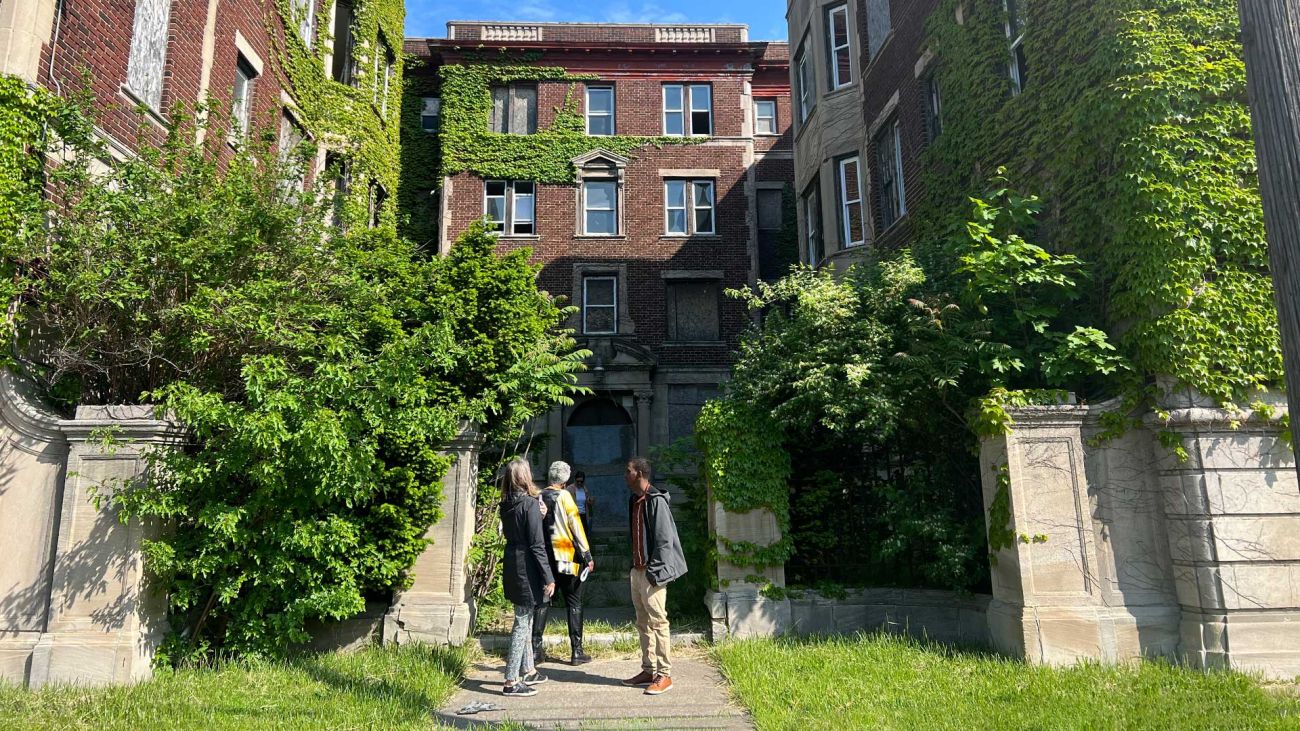 Tour of vacant buildings during the Preliminary Feasibility Study in Detroit, MI. Artspace Projects. 
Tour de Michigan
When Artspace was first invited to Detroit, the city was reeling from its historic bankruptcy filing, so the time for an affordable live/work space for creatives wasn't right. In partnership with the Kresge Foundation, however, the time was right to launch the Artspace Immersion program, which welcomed 10 arts organizations into a year-long learning cohort in 2015 to help address their organizations' space-related issues. Beyond space for organizations, however, the need for housing continues to be rampant.  Much has been studied and written about Detroit's receivership and bankruptcy. The amount of land that was sold off to potential investors and developers during the past decade has further exacerbated the lack of accessible housing. After a second Immersion cohort wrapped up in 2021, our consulting team finally conducted a Preliminary Feasibility Study and Arts Market Study with results deeming the city perfect for an Artspace development.
As we head West toward the metropolitan hub of the state capital, we find ourselves in East Lansing, home of Michigan State University. But as Artspace learned from our Preliminary Feasibility Study in 2021, the city is committed to being much more than just a college town. Many of the nearly 48,000 residents are passionate about creating better opportunities for young adults to stay in East Lansing after graduation, and to build a downtown that better serves the entire community. We aim to quantify that passion in an Arts Market Survey in the future. 
Tour of creative centers in Washtenaw County, MI during the Preliminary Feasibility Study. Lisa Sauvé.
In between Detroit and East Lansing are the adjacent cities of Ann Arbor and Ypsilanti. Artspace's Preliminary Feasibility Study in 2022 originally focused on Ann Arbor, but we quickly realized how porous its borders are and expanded the study to encompass the entire Washtenaw County. We heard how Ann Arbor's cleaned-up college-town and increasingly tech-town dynamic has affected affordability and the creative sector. Without measures in place to foster artists and recent grads, those creatives are leaving for the more affordable Ypsilanti. Yet with limited spaces available, Ypsilanti is starting to feel the burden of accommodating Ann Abor's creative flight. Through an Arts Market Survey, we'll begin to hone in on our understanding of Washtenaw County's needs and find a space solution that benefits each city.  
On the other side of Detroit, following I-94 northbound along Lake St. Clair, we make our way to Mount Clemens, where predevelopment planning is well underway. Artspace is working closely with the Anton Art Center, our long-time community arts partner and fierce local advocate; Quinn Evans Architects; and our local Steering Committee to inform the exact location and building design. Artspace began its engagement in Mount Clemens in 2019, and we heard loudly that the top goal for the community was downtown revitalization. Seeing that no downtown businesses closed because of the pandemic and entrepreneurship in the area has been resurgent, it's clear that adding housing will complement an already growing downtown.
An Abundance of Hope
Our work in Michigan represents the second largest cluster of predevelopment energy coming from multiple cities in a particular region, outside of our work in Colorado. To put it plainly: it's a lot of projects! But as Senior Vice President of Artspace Consulting, Wendy Holmes, puts it, "The volume of our work isn't in building buildings, it's about helping others." That's an abundance mindset that informs our work in clusters like these, knowing that one city's project won't cannibalize another's. We also extend that abundance to other like-minded affordable housing developers by lending our four decades' worth of knowledge in technical assistance. It's this abundance that gave Marie Craft the hope to make her way to City Hall Artspace Lofts.
When we had our chat, I learned that Marie was about to have her 60th birthday. I asked how she was going to celebrate. She replied simply, "I'll probably stay in and hang out with my two cats, Tuxedo and Black Onyx." Knowing her life story, the peacefulness and ease of her answer gives me hope.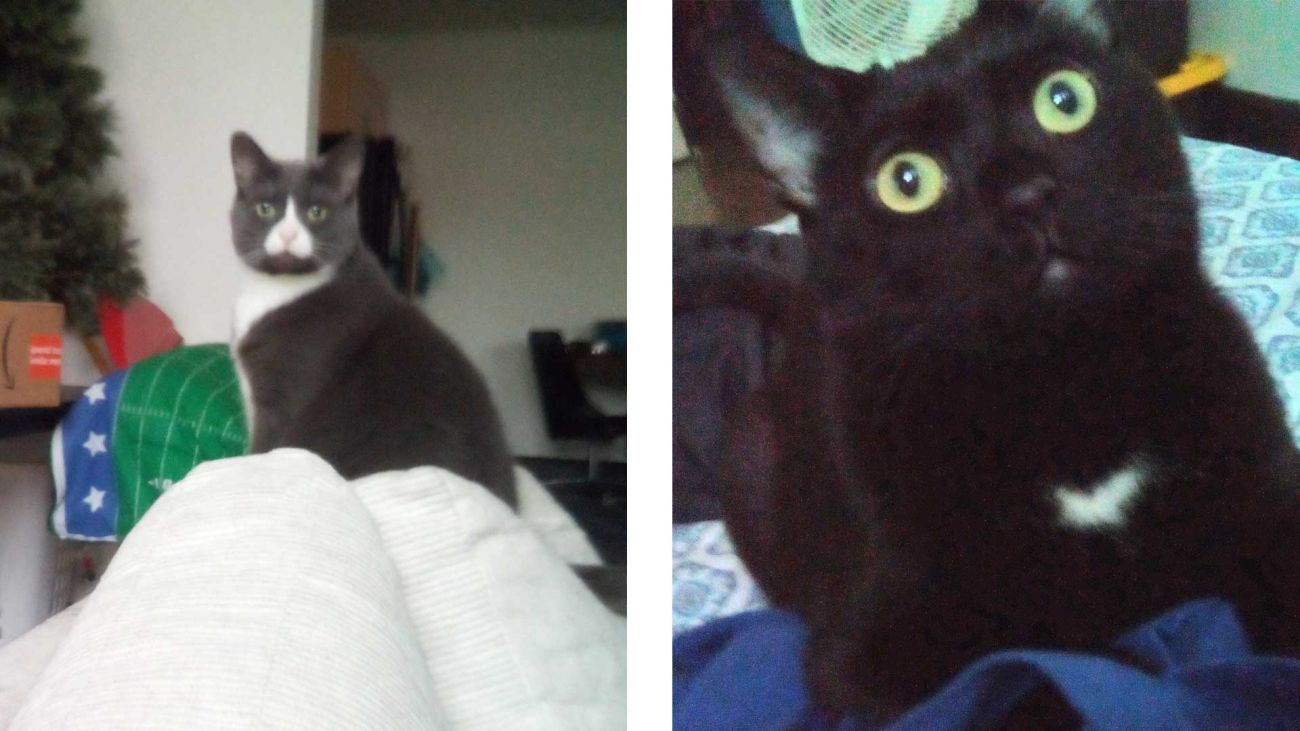 Tuxedo and Black Onyx. Marie Craft.
---